We celebrated All Saint's Day at my church yesterday. I don't know if other churches do this, or if it's unique to Southwood, but my church defines ordinary people as saints – our friends and neighbors, parents and siblings, children and spouses and partners, those who have gone before us, and those with whom we continue to share our time on Earth.
Throughout the service I thought a lot about my mother-in-law, Janice, who so brightly shined God's love through her selflessness, generosity, patience and joy. But when I heard Pastor Michael say that "God plants saints in your life, specific people who shine the light of God in your life" – I thought of someone else, someone very much like his mother in his quiet, selfless ways: my husband, Brad.
From the time I met Brad back in graduate school at the University of Connecticut until now, 18 years later, he has exuded a quiet, steadfast faith. Brad isn't the type to broadcast his faith dramatically from the soapbox. He's Nordic you know, and the Nords are a subtle, stoic people. Instead, he quietly serves his family, his neighbors, his co-workers, his friends and the strangers he meets on the street. He doesn't boast about it. He doesn't even talk about it. He just does it.
I wasn't a believer when Brad and I first met. In fact, I still wasn't a believer during the first seven or eight years of our marriage. The fact that Brad married me in spite of that is nothing short of a miracle. But, you see, he had faith. He had faith that I would come to know God. He trusted that God wouldn't let me go, that he wouldn't give up on me.
As it turned out, he was right.
In the beginning of our courtship Brad tried to engage me in theological discussions. He had a divinity degree, after all – this is a man who likes to chat about God. But I wouldn't budge. I simply told him I didn't "do deep conversations." In reality, I was afraid. Strangely, I hadn't admitted to myself that I didn't believe in God. While I knew it in my heart, I had never said it aloud.
Later, I spent several years in a period of limbo. I had finally admitted to myself that I didn't believe in God, but oddly I found that I wanted to believe. I wanted to find faith, but I just couldn't. I didn't know how or where to begin. We still didn't talk about God or faith much during those limbo years, but when we did, Brad would always tell me the same thing: that he believed I would come to find God.
While I didn't exactly believe that was true, Brad's faith in God, and his faith in the fact that I would come to be a believer, gave me hope. I clung hard to that hope during those limbo years.
Brad was the first person I told when I began to suspect that I believed in God. I remember the night clearly. We were celebrating our anniversary at a fancy restaurant in Omaha, and I told him, "I think I might believe in God." We talked long that night, from our gourmet appetizers all the way through the decadent chocolate torte. I was giddy, and honestly, I think Brad was, too ( because he's a Nord, it's often hard to tell...but I knew).
I still can't believe that this is the road God has paved for me during these last five years. What's funny is that Brad can't believe it either. "Sometimes I'm still surprised this is you now," he'll say, and then we laugh when I remind him, "But you were the one who always told me this would happen!"
One thing is for sure though: while God planted Brad in my life for many reasons (I could write a whole blog post on his pancakes alone), chief among them is this: he knew Brad would shine the light of faith like a beacon of hope, lighting my every step along the way.
Meanwhile, the moment we get tired in the waiting, God's Spirit is right alongside helping us along. If we don't know how or what to pray, it doesn't matter. He does our praying in and for us, making prayer out of our wordless sighs, our aching groans. He knows us far better than we know ourselves, knows our pregnant condition, and keeps us present before God. That's why we can be sure that every detail in our lives of love for God is worked into something good." (Romans 8:26-28, The Message)
[And I'll beat my dad to the punch: just the fact that Brad married me makes him a saint!]
Still counting...
760. Coming home to my own bed.
761. A husband who does the laundry, grocery shops, bleaches the sink clean and remembers to buy the Halloween candy while I am out of town.
762. Meeting online friends in person.
763. Rerouted trips that create new friendships.
764. Kids doing the "robot" dance.
765. Lighting candles.
766. A husband who scrapes my windshield in the morning.
767. Great Harvest blueberry-peach Savannah bars.
768. Laughing with Viviana.
769. "I love you" written by Noah in the steamed bathroom mirror.
770. The Bradster, whose faith lights the way.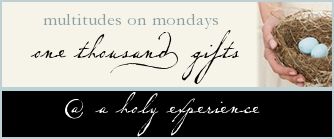 And linking with Jen and the Soli sisters, too:
Welcome to the "Hear It on Sunday, Use It on Monday" community! If you're here for the first time, click here for details and instructions on how to link up.
Or you can simply copy the code for the "Hear It, Use It" button in the sidebar to the right, and paste it into your own post. [Please include the button or a link in your post, so your readers know where to find the community if they want to join in! Thank you!].
I love hearing what you have to reveal each week about how God is speaking to you through his word, and I am so very grateful for your participation here!
Don't forget to come back Thursday for the Hear It, Use It Round-Up. And if you want to tweet about this link-up community, would you mind using the hastag #HearItUseIt? Thanks! [look at me, talkin' about hashtags!].