He asks me to climb the apple tree with him, and of course my instinct is to say no. No is my default answer, after all. But then before my brain can override, my heart says yes, and I've kicked a leg up over the lowest limb.
"You're coming up?" He smiles huge, but I can hear disbelief in his voice as I hang upside-down, legs flung over branches, arm tendons straining, palms against rough bark.
"You can do it, Mommy," he encourages. "It's great up here, you'll see." And I wrench my torso up, abdominals flexing as the blood rushes to my head.
I position my body on the lowest limb, one hand gripping gnarled branch. My heart pounds, but not from fear. This joy is a familiar one.
Rowan stands three limbs above me, head crowned in fuschia blossoms. "Isn't it great?" he asks, still grinning. "It's just like being in a treehouse without the house, isn't it?"
I admit, it's pretty great, the sweet scent of blooms tucked lightly around us, lat
e afternoon sunlight glinting chartreuse, petals raining like wedding confetti.
I tell Rowan how I used to climb apple trees nearly every day when I was a kid. I'd tote a book up with me – The Secret Garden, Where the Red Fern Grows, Bridge to Terabithia – and a plastic baggie of Keebler chocolate-covered graham "sandwiches," peanut butter smeared thick between two cookies.
"You did?" asks Rowan, incredulous, and I make yet another mental note to be more fun, so that my kids aren't dumbfounded by the possibility that I wasn't always a boring old mom.
We sit in the tree 15 minutes or so, chatting, watching the light dance dappled on new leaves, spying on the golfers teeing off across the green, at the squirrel sliding down the feeder pole, bushy tail twitching.
And then I glance at my watch, see that dinner needs to be prepared, and wrangle gracelessly, one leg at a time, out of the tree. Noah snaps a picture as I lower myself down to Earth – proof that I can, and will, say yes.
On a Journey of Yes...with Jennifer V. Davis' Journeys series:
Recording 1,000 gifts with Ann Voskamp's gratitude community:
285 Saying yes
286 Wind at my back
287 Getting out the patio furniture
288 May baskets
289 View from the apple tree
290 Blind man running
291 His devoted wife
292 Scent of grape hyacinth in a vase
292 Laughter out an open window
293 Flailing backstroke, all limbs
294 A blond baby named Pudgy
295 Noah taking photos with Miss Marge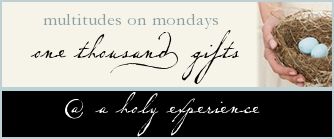 The Gift of An Ordinary Day Winners!!


I absolutely wish I could send every one of you who commented on Tuesday's post a copy of this book. Maybe someday when I'm a rich and famous writer I'll have the funds to do that (but I'll send you my book!)! Thank you all for commenting...



And the winners are: Heidi from

What's on Heidi's Mind

and Gabe from In the Details. Cheering! Applause! Yippee! Ladies, I will send you an email because I need your mailing addresses!

And for those of you who didn't win, give yourself a Mother's Day gift and buy yourself a copy -- it's a must-read!



Happy Mother's Day!